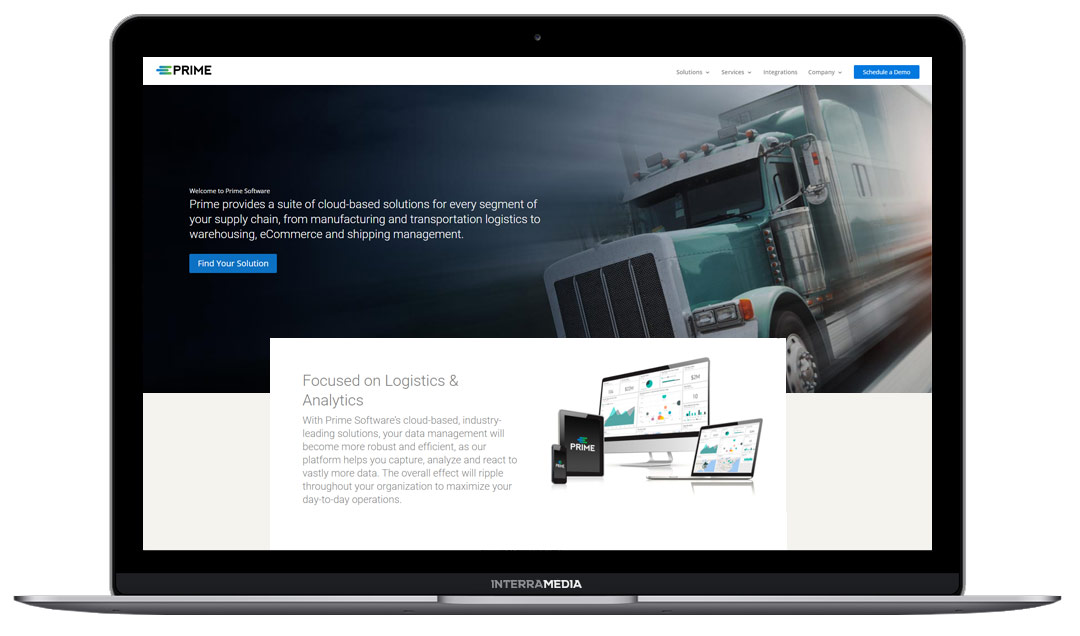 Congrats to the team members at Prime Software on the launch of their new website by InterraMedia. Based in Northwest Arkansas, Prime Software provides logistics and data analytics solutions to companies across the U.S. and around the world, including Florida, California, Pennsylvania, New York, Tennessee and Taiwan.
InterraMedia also completed a branding overhaul with a new logo, color scheme and style guide. Interra designed the new Prime logo, developed a new website as well as wrote all content for the updated Prime Software website.
Prime's solutions are cloud-based, fully-customizable tools and software for every link in the modern supply chain, from manufacturing management, to warehousing and supplier inventory management, shipping and load tracking, logistics and analytics, load delivery and yard management. Every Prime Software solution can be seamlessly integrated with one another, creating an endless variety of custom solutions. Their software solutions are fully customizable and tailored to the unique and individual needs of each client. Their cloud-based platform also helps clients capture, analyze and react to live streams of business data.
Services on this project:
Logo / Branding design
Website design
Content writing
Graphic design
Business cards
Marketing collateral
Website: http://www.primesof.com